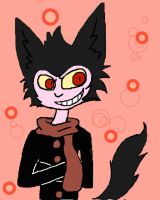 Grinny
is a no good evil terrorist/overlord who stole Slenderman's prized power grid, and planned to take over the world by destroying all superpower countries and establishing a new world order. TALK ABOUT CRAY-CRAY!
---
Appearance:
---
Grinny is a cat with red skin, and black fur. But in human form, his skin is a greyish color with a black jacket and pants with a red scarf with red mittens.
---
Personality:
---
Grinny is pretty your standard Donald Trump. But can easily be angered in a drop of a hat. I would point out that, even though Grinny is in love with Mrs. P (Pencil Neck), he is still wanting to take over the world (OF COURSE!). He does rely on Mr.Widemouth from time-to-time, but really doesn't give a damn about America being a "Free Country".
But, don't call him "Boogeyman", he gets enraged when he is called that. Jeff and Ben almost paid the price when killing Mrs. P.
---
Powers:
---
Grinny's claws can go through solid objects "like a hot knife through butter", and can turn human form whenever he wants. He can charge up green Ki like a Super Saiyan when infuriated (like when Mr. Widemouth mentioned singing), and can bleed out his nose when in love with Mrs. P.
---
Fashion Sense:
---
As Written by Trender Man
What do I think about that little Donald Trump wanna-be?
Ugh, where do I begin?
Again with the black? We already been on the same road with my brother, Slendy.
Scarfs? Nice touch, but needs to be a little more "authentic". Needs a little more "Pizazz".
And he REALLY needs to loose the attitude. And see a veterinarian.
He would get fleas on his clothes, and I have to help Jeff wash the pest. Sometimes he really urks me when I keep hearing his tirades. I'd wish I'd really tell Slendy to step on him like the cockroach he really is. But, he's Jeff's problem, not mine. Still, having him as a pet is a fate worse than death!